MalioThomas
Marika says the traditional rope bondage practice of Shibari is often used to build intimacy and trust in relationships.
"The best way to get started is to watch a lot of videos, browse through pictures and read about Shibari and other bondage practices. A great resource can be found on our site in the Theory & Inspiration section. It's good to take the time to investigate your motivations and to discover your personal interests, turn-ons and expectations before practicing with other people. Of course your interests will change and be redefined often during your journey, but start with a clean unbiased slate, so you can point yourself and your partner in the right direction."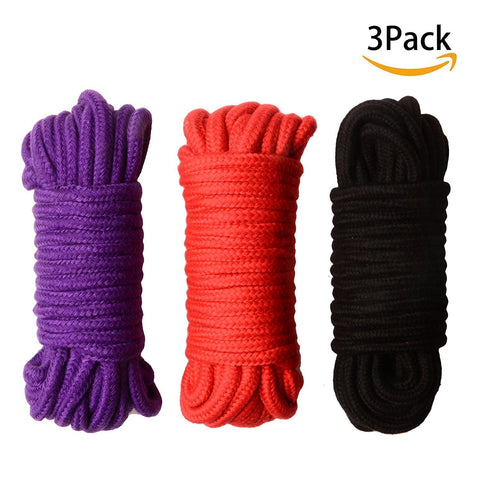 What is Shibari?
Shibari is a form of rope bondage originating from Japan. The technique has its roots in the feudal Edo Era, according to Marika. "But it was not an eroticised art form until the twentieth century. 'Shibari' is a Japanese verb meaning 'to tie'. The more traditional and erotic expression of the practice is also referred to as 'Kinbaku', meaning 'tight binding'," she explains.
"Shibari is often associated with BDSM, but the practice has evolved greatly in the last decades as it meets at the intersection of sex, art, bodywork, meditation and mindfulness practices and of Eastern and Western cultures. There is no 'one true way' to enjoy Shibari and integrate it into our lives and relationships. There are a multitude of different styles and approaches, making the practice more diverse, more dynamic and more beneficial than ever before."
What's the point of Shibari?
Marika says that shibari enthusiasts report many benefits from the practice. "It is a wonderful tool to foster self-care, self-love, self-confidence, self-exploration and body positivity as well as nurturing qualities such as empathy and sensitivity," she explains. "Couples often explain that it deepens intimacy and trust between them in profound and unique ways. It's also an amazing form of physical exercise and intellectual stimulation; moving your body in new ways and learning a new craft. The artistic aspect of the practice lends itself particularly well to creative expression, as a new medium to combine with aerial circus, dance, photography, film or even theatre."